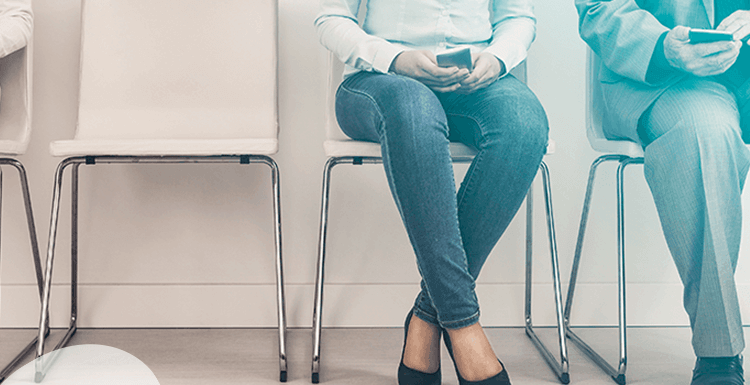 The Ultimate Guide to Recruiting With Social Media
It's easy to see social media as an overwhelming driver of irrelevant traffic. At least, it's easy to feel that way in many business sectors since it's often true. For recruiting, it can be even more difficult to grasp exactly how a social recruiting strategy might help.
Don't worry! These social statistics will help wrap our heads around what platforms your candidates are on and how they're using them.
Recruiting With Social Media
Recruiting via social media is now a must-have component of a successful recruiting strategy. Social networks are serious drivers of traffic, and this includes your prospective candidates.
The key to understanding the value of a social platform for recruiting is learning about how it can expand your reach laterally. It may not be your candidate that you reach directly, but rather your candidate's network. As they say, sharing is caring, and when you have a friend that's looking for a job, you tend to share.
The other key is understanding the what, where, and how of each platform:
What they expect to see
Where they expect to see it
How they expect to see it
General Social Recruiting Strategy
Generally, your prospective candidates expect to see different things on different platforms. Change up your social recruiting strategy, by platform, accordingly.
On Facebook, for example, text + a picture + maybe a link. On Instagram, pictures obviously, but of what? In some cases, it might be showcasing company culture. In others, highlighting team members at work.
Regardless, target your social recruiting efforts more effectively with these principles:
What is the expected behavior on the platform?
How does it relate to aspects of the company or role?
Which platform would be best for a particular promotion?
Trends and Usage of Top Social Media platforms
According to the Pew Research Center, 79% of Americans using the internet are using Facebook. This is huge. While Facebook seems like little more than a source of memes, the fact remains, it is a MASSIVE source of traffic.
Other platforms see substantially lower usage, such as Instagram (32%), Pinterest (31%), LinkedIn (29%), and Twitter (24%). LinkedIn is the most obvious candidate for recruiting purposes, of course. Volume may not matter as much when traffic is more targeted. Though, the other platforms offer interesting possibilities for certain positions and candidate types.
Related: 24 Experts Share Top Tips for Social Media Recruiting
Recruiting on Facebook
Simply put, Facebook has their individual targeting game on point. They were ahead of the big data game (some of us remember advertising on Facebook years ago before they became the leader in hyper-targeted online ads) and whether paid or organic, targeting your social posts is easier than ever.
Want to make the best use of your advertising spend on Facebook? The degree with which you can target potential candidates at a very fine level is downright crazy! For example, you can create a Custom Audience from a customer list, for example, a signup list from your last open house. You upload, copy and paste, or import your customer list, then Facebook uses the data to match the people on your list to people on Facebook.
When you create an ad, you can choose to target it to people in any Custom Audiences and/or Lookalike Audiences you've created. You can also use exclusion targeting, which prevents a particular audience from seeing the ad. For example, you can exclude an audience of current candidates if you're running a campaign to gain new candidates.
For direct response advertising, you can set up Facebook pixel event tracking on your site. This allows Facebook to retarget the users who have already visited your website (your careers site, for example), but not your Facebook page.
To create your Facebook pixel:
Go to your Facebook Pixel tab in Ads Manager
Click Create a Pixel
Enter a name for your pixel. You can have only one pixel per ad account, so choose a name that represents your business
Note: You can change the name of the pixel later from the Facebook Pixel tab
Check the box to accept the terms
Click Create Pixel
Note: You can only create one Facebook pixel per ad account. If you already have one, you won't see the Create Pixel button.
Implementing the Facebook pixel code:
The Facebook pixel code is made up of two main elements:
Pixel base code
Event code
The pixel base code tracks activity on your website, providing a baseline for measuring specific events. The base code should be installed on every page of your website.
Events are actions that happen on your website, either as a result of Facebook ads (paid) or organic reach (unpaid). Event code lets you track those actions and leverage them in advertising. There are two types of events you can send. Standard events are 9 predefined events that Facebook is able to track and optimize your ads for without any additional actions. Custom events are actions that are important to your business, but that you can't use for tracking and optimization without additional action.
Learn more about implementing the Facebook pixel code.
As far as what trends are coming from Facebook in the future, Brandwatch reports:
"Facebook needs to keep people clicking, liking, and sharing. It's key to Facebook's business model. It is this engagement, along with all the data it knows about its users, that allowed Facebook to post a 2016 profit of $2.38 billion, nearly three times as much as a year ago.

In order to keep this up, it needs to keep innovating, and with that in mind there seem to be two major trends for Facebook: virtual reality and artificial intelligence."
We're expecting to see more from Facebook on VR and AI in the coming year. After all, this is the company that bought Oculus Rift for $2 billion.
Recruiting on LinkedIn
LinkedIn usage tends to be evenly distributed among men (31%) and women (27%). It might seem a bit of a surprise but, users of LinkedIn actually tend to be a bit younger than you might think. Users between 18-29 and 30-49 represent 34% and 33% of users respectively. Users 50-64 and 65+ represent a substantially lower percentage at 24% and 20% respectively.
Although it may seem obvious, it's also interesting to note the career demographics. For example, 50% of LinkedIn users have college degrees or greater levels of education. Additionally, 45% of users are in the $75K+ income bracket. Only 17% of users are "not employed," which includes retirees, students, and disabled.
Looking at the numbers, the general takeaway should be one of showcasing career advancement. Also, highlighting unique job opportunities, bonuses, and other perks is a plus. The question many LinkedIn users will be asking is, "Why should I leave my current job?" Figure out how to answer that, and you may have an attractive proposition!
The Content Marketing Institute reports on recent analysis and upcoming trends for LinkedIn:
Our analysis of 228,000 articles published on LinkedIn and another 136,000 shared articles from other sites between 2012 through January 2017 shows:

LinkedIn's volume of growth may not have reached content shock. LinkedIn was the primary content distribution network for some topics. Long-form content is shared more than short posts are. Official influencer recognition isn't necessary to earn a high-share volume (but it helps!). Original content on LinkedIn earns few referral links. Successful LinkedIn posts are: Personal, Professional, Practical, Portray a path for change, and Point toward peak experiences.
LinkedIn is also more than just a place where you search for candidates. Your peers are there too; and it's a great way to get to know influencers and talk shop with your virtual colleagues. Check out this list of 12 Must-Join LinkedIn Groups for Recruiters and make the most of your time online.
Recruiting on Twitter
The key for reaching your desired demographic (job seekers in your industry) is engagement. If you have a Twitter account already, you've probably done the first steps:
Follow industry experts, influencers, and other high value accounts.
Share engaging content from your own site or blog with headlines that will make users want to click, share and retweet.
Twitter is one channel you want to take some time each day and actively engage with your following. Sure, you can schedule content (we have a great list of 10 free tools to help you do that), but you also might consider looking for "Twitter Chats" so you can engage with a specific audience, say job seekers or recruiters, at a specific time. Check out this handy list of Twitter Chats for Recruiters for a good starting place.
Additionally, you will want to post more frequently on Twitter than on your other social channels. Twitter is a site that has a very fast throughput on content. You post, people who view their feeds get to see it, and anyone who comes late is going to have it pushed way down on their feeds by other, more recent content. The minimum number of posts per day is typically three, plus retweets (it's helpful to comment on a retweet so the user knows you actually read what they shares) and replies (always reply to users who ask you questions).
When should you post? Who is responding to your posts? While not perfect, Twitter has analytics.
This is where you can view metrics on your tweets, reach, top tweets (your highest performers), and most important: Your audience.
Once you've clicked on Audiences, you can get data from gender to household income to lifestyle to consumer behavior…and a heck of a lot more. Education, home ownership, device type, marital status, pretty much anything other than when they're online. The level of detail is almost scary (until you consider you can't find out which user does what, when and where…).
Luckily, companies like Hubspot have done thorough analyses of time spent on Twitter and recommend posting between noon and 3 p.m. on weekdays. And the great thing about social media is that you can test your posts. Try tweeting in the evenings. Try weekends. If you're recruiting for jobs that aren't 9 to 5, it makes sense to see when and how your audience responds to your content. Test it and use what works.
When it comes to advertising trends on Twitter, in the coming year, its analytics are only going to get better and more specifically relevant to marketers, hopping on the big data trend a little later than other channels, but it promises to be effective. A recent eMarketer report states viewability, attribution, and measurement are still digital advertisers' biggest concerns.
From Twitter's marketing blog:
We've invested heavily to provide brand marketers with the ability to measure their impact along three axes:

Our global relationships with Moat (@moat) and Integral Ad Science (@integralads) will enable marketers to understand if the video ads they run on Twitter are viewable by humans and compare video ad viewability and attention metrics across channels.

We'll be expanding our relationships with Nielsen (@Nielsen) and comScore (@comScore). Using Nielsen Digital Ad Ratings and comScore validated Campaign Essentials (vCE), marketers can measure whether their Twitter ads were delivered to the audience they intended to reach.

We have relationships with the top measurement companies in the world, which allows our partners to measure the reach, influence, and action that results from their advertising. This includes ongoing conversations with organizations like the Media Ratings Council on the accreditation process.
Recruiting on Instagram
Instagram may seem a far-fetched for prospecting candidates, but consider this. Candidates want to be confident about companies they apply to. They're going to research your business. They'll try to get a feel for the work environment and company culture. It has become expected that these are the things you can find on a business Instagram profile.
When tailoring your Instagram profile towards attracting candidates, keep these demographics in mind. A higher percentage of Instagram users are women (38% vs. 26%). Also, the vast majority of users are in the 18-29 year old range (59%), with a decent percentage in the 30-49 year old range (33%). Instagram users also tend to have at least some college education (37%), and a high percentage of them live in urban areas (39%).
Consider showcasing the social nature of your job opportunities or the company culture. Also, consider highlighting perks like training and career-advancement opportunities. Younger candidates often look for these things when searching for promising opportunities.
The biggest Instagram trend for 2017? Clickable links on posts.
For years, the only place you've been able to click on a link in Instagram is through the link in your bio. Brands, influencers, and small businesses have had to get creative when it comes to making sales and driving traffic through Instagram, which is why the phrase "Link in bio!" is so popular on Instagram.
From Later.com:
Shoppable Instagram feeds that leverage the link in your bio, like Later's Linkin.bio product, are exploding in popularity, and with new features like Instagram shopping and clickable URLs in Instagram Stories for verified users, we're betting that 2017 will be the year Instagram grows up as a marketing platform and finally brings clickable links to Instagram posts.
Recruiting on Pinterest
I'll admit, Pinterest is likely last on your list, and for good reason. Pinterest is generally more entertainment-oriented. I would look at this platform as a passive candidate source that may never deliver, but it is worth trying. When it comes to recruiting, it's often the little things that will edge you above the competition in closing the deal.
The statistics still show that a majority of Pinterest users are women (45% vs. 17%). Ages tend to be pretty evenly distributed from 18-49 (34-36%). Also, users have at least some college experience (34%) or greater (34%).
Consider pinning some of your popular Instagram content. You might even create a pin board for things like "company culture" or "company events." At a minimum, it will help you expand brand awareness. If you link pins to your site, it can also be a good source of referral traffic.
Want more on social recruiting? Check out these posts:
Search
Recent Posts
Categories
Tags