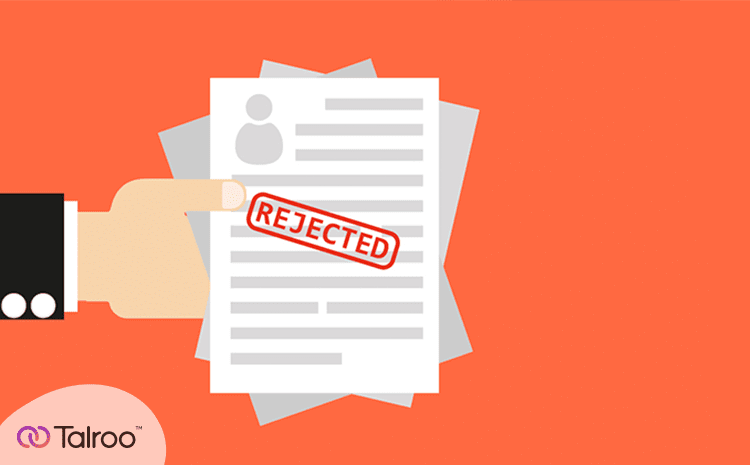 What's the Best Way to Reject an Applicant?
When you reject a candidate after a phone screen or in-person interview, do you let them down gently or just tell them they didn't make the cut? No one likes rejection. I recently asked my network of business owners and recruiters how they reject their applicants. Here's some of their responses which may be helpful to share with your hiring managers.
"How you reject a job candidate depends in part on where they are in your process," says Dr. Sandy Fiaschetti, a management consultant from Magnet Consulting in Michigan. "Pre-interview during resume review and any online testing, most likely you'll be rejecting candidates through an email. This means you should say enough to be polite and keep them positive toward your company but not so much that you cross the line into providing evaluation of their capabilities/feedback on their performance in the selection process. Once the candidate has had an onsite interview, you owe the rejected candidate a phone call to let them down. I would provide some concrete, yet not detailed, behavioral feedback on why not them, e.g., 'the team was very impressed with your organizational skills but ended up choosing someone who was a better overall fit'. The most important thing to remember is that candidates' impressions of your company are more influenced by procedural justice than distributive justice. This means they actually are affected less by whether or not they got the job and more by if they believed the selection process–including how you let them down– was a fair process."
Jeff Street, COO of Boss Heating and Air Conditioning says he tries to be honest but not brutal: "I think the best practice is to always make them feel good about themselves even if they are not getting the job. If they leave your office upset they will most likely talk down your company to their friends. One negative review hurts more than ten good ones help. With that said, I always start bad news with a compliment such as 'Mr. Jones, your previous employer said nothing but great things about you'. I always thank them for taking time out of their busy schedule to meet with me. I want to make sure they know that I value their time and appreciate them considering our company for employment."
Evan Pellet, an executive recruiter and author of Cracking the Code to a Successful Interview, says email is the softest, and most efficient way. It also leaves no room for he said/she said especially if the candidate is upset about not being hired. "The most important part of rejecting someone is tone," added Pellet. The slightest varying of words can be the difference between a warm response, generic response, or cold response. 15 minutes coming up with a universal organizational response is the best way to alleviate any variables."
Think of your of candidates the same way you would customers. You always thank and respect your customers so why not do the same with candidates? The nicest responses are something to the effect of: "We really appreciate you interviewing. After deep consideration and review of many candidates, we have decided not to move forward with this role at this time. We hope to keep your information should a future fit arise within our organization." This response should be sent from the ATS if possible, as it keeps a date and timeline for any future inquiry. Saying there may be a future fit is often accurate and eases the blow of the current rejection.
Pellet goes a step further if a candidate may be a possible future fit. He says to send them a card in the mail saying: "Sorry we are not moving forward at this time. We encourage you to apply to future roles, and hope to keep our communication open." You can also send a gift basket if the candidate came through a customer or highly respected referral source. A gift basket is neutral and costs much less than a burned relationship. Sending a nice note or item is also good if a candidate has gotten close to the end of the interview process and invested a lot of time. Trust me, candidates will remember you in the future. The proper language for a rejection if someone is far along the interview path is also: "We found someone that better fits our needs at this time."
Many candidates will push for feedback, not realizing that you can't volunteer it. It is important, if they ask, to simply say: "We are not legally allowed to share feedback on your interview process or anyone else's. It was nice meeting you, and we wish you all the best. Thank you." With rating sites like Glassdoor, it's important that companies exercise class and effort at each juncture of the interview process. An upset candidate will often share their feedback the same as consumers share feedback about their experience. Pellet adds that it's very important to educate hiring managers on how to reject someone. They can create huge liability for an organization, if they do it "their way." The unfortunate part is many managers are never trained on proper interviewing and do their own form of evaluation.
Finally, be sure to not leave the candidate hanging without a word. "One of the biggest frustrations I hear from clients", says Tara Goodfellow a career consultant with Athena Educational Consultants, "is not that they didn't land a position, but that they never heard back. I think it says a lot about the value a company places of its employees/potential employees when they take time to at least state they've selected another candidate."
With as frequently as people change jobs in today's landscape, best practices and common courtesy are appreciated and remembered. The opposite also is remembered. Sometimes the concern is from an HR vantage point, not wanting to disclose details, feedback, etc. That's fine, just state your company's policy, but a No is much more valued than being ignored or not notified."
More than anything, job seekers want to be treated like people who spent their time and put thought into the application process. The deeper into the process they get, the higher-touch the rejection should be.
Search
Recent Posts
Categories
Tags