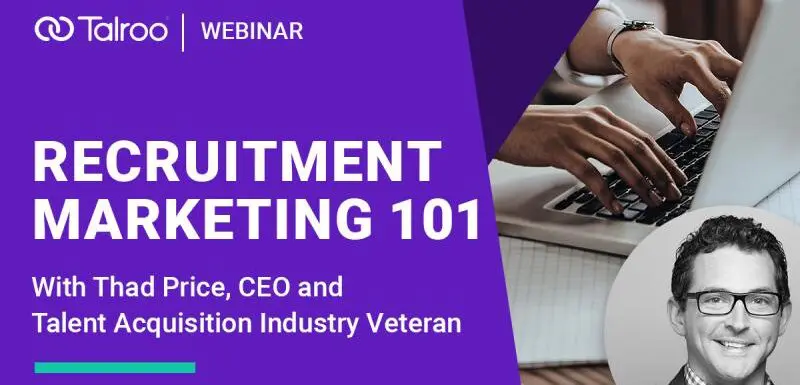 Recruitment Marketing 101: Frequently Asked Questions
Looking to maximize the number of candidates you attract with your job advertisements?
We recently hosted a webinar with our CEO, Thad Price, on how to use recruitment marketing to:
Optimize your job ads
Give insights on what job seekers search
Create a best-in-class recruitment marketing checklist
Gauge the success of your recruitment marketing campaigns
You can watch the on-demand webinar here and check out these FAQs to learn how to make the most of your job ads!
What is your suggestion as an alternative to a resume?
The truth is resumes are outdated. Sites such as Indeed and Zip Recruiter may still ask for them, but many employers looking for essential workers in fulfilment and distribution, logistics, healthcare, restaurants, groceries, manufacturing, customer services, and financial services are not. They are more interested in attitudes, skillsets and personalities, rather than a static snapshot of their candidates past via resume. What's their character like? How good are they at collaborating with colleagues? How effective are they at dealing with people in a crisis? What are their aspirations? These are all soft skills and human traits that resumes don't collect.
Furthermore, with 60.7% of job applications completed on mobile phones (compared to 39.3% on desktops), are resumes still the best content delivery platform for hiring? Documenting and processing candidates on a large scale and filtering quality candidates is becoming a prominent concern for U.S. organizations today.
Some resume alternatives include:
Real-time communication between candidate and recruiter in the form of text-to-hire or chat functionality
Online resumes like LinkedIn profiles, video resumes, and gamification to assess behaviors and match candidates with pre-designed scenarios
Target the best-suited candidates with AI to collate data and remove poor or ineffective data
What are some key questions you should ask when vetting a potential vendor partner to assist with recruitment marketing?
The first question you should be asking is how things work, or how they are different from other vendors. The second is how they measure success with their current customers, or their definition of success. To follow that, ask for some examples of success with past customers. Seeing data and understanding how the platform operates is important to know how it can work for you.
What's the difference between a programmatic campaign and selecting job boards through an ATS?
A job board is posting a job and checking a box. You're paying anywhere around $200-600 to post that single job. However, there's no automation that ensures that your investment is performing for you. You're not having a conversation about your cost per hire, your goals, how many people you're looking to hire; you're just posting your job on a site.
On the programmatic side, there's a lot of automation that goes on syncing your job postings directly from your ATS. Once those jobs have synced, you can create campaigns to target the talent you want and assign different values to them. You can focus more on certain job ads depending on what your need is, as opposed to the same pricing for a single job post like a job board.
The systems in today's market use data based on apply-signals through your ATS and then study the results; for example, which sites are working, and which are not. This allows you to scale hiring and target results rather than just checking a box by posting a job. Here are two examples:
Traditional programmatic advertising focuses on what sites have worked in the past for job ads similar to yours.
The best analogy for this difference is analog versus digital – job boards are manual postings that you have to maintain and see if they're reaching the right people, whereas programmatic advertising allows you to leverage technology and AI to ensure your postings find the right people, at the right time, in the right place, and for the right price. Analog works, but digital allows you to be more effective long-term, and is much more scalable.
How important is it nowadays for a company to have a strong LinkedIn presence for candidates to take them seriously? You could have a strong job posting but the company isn't active on LinkedIn. Should the company take LinkedIn and other social platforms more seriously?
A large draw for job seekers is the company itself – they want to know the company's values and culture to see if it matches their own expectations. Social media platforms, like LinkedIn, are a great way for you to show off your culture and draw great talent to your job postings. This is especially true if your current employees are featured on your social platforms and interact with your company's page. Here's a guide on social recruiting to help you get started.
How important is it to include keyword(s) to the first sentence of your job description?
Times have changed. While keywords are still important, especially for discoverability, what's more important today is interesting job data. For example, pay, flexibility, benefits, and other substantiative information about the position itself will help you stand out from other job postings. Surfacing what's important to job seekers from the beginning will give them the information they need to know if your job is right for them. Here are some tips for writing a great job description that will help you attract the top talent.
How do I get current employees to help market job postings?
Referrals are a great way to find and hire for your company. Incentivizing current employees to share your job postings with their friends, family, and network can build comradery, culture, and retention. Building out a referral program with significant employee bonuses can help drive referrals. That way they can leverage their social networks to find and retain top talent while making your current team happy. Here are some tips on building out your referral program.
Search
Recent Posts
Categories
Tags