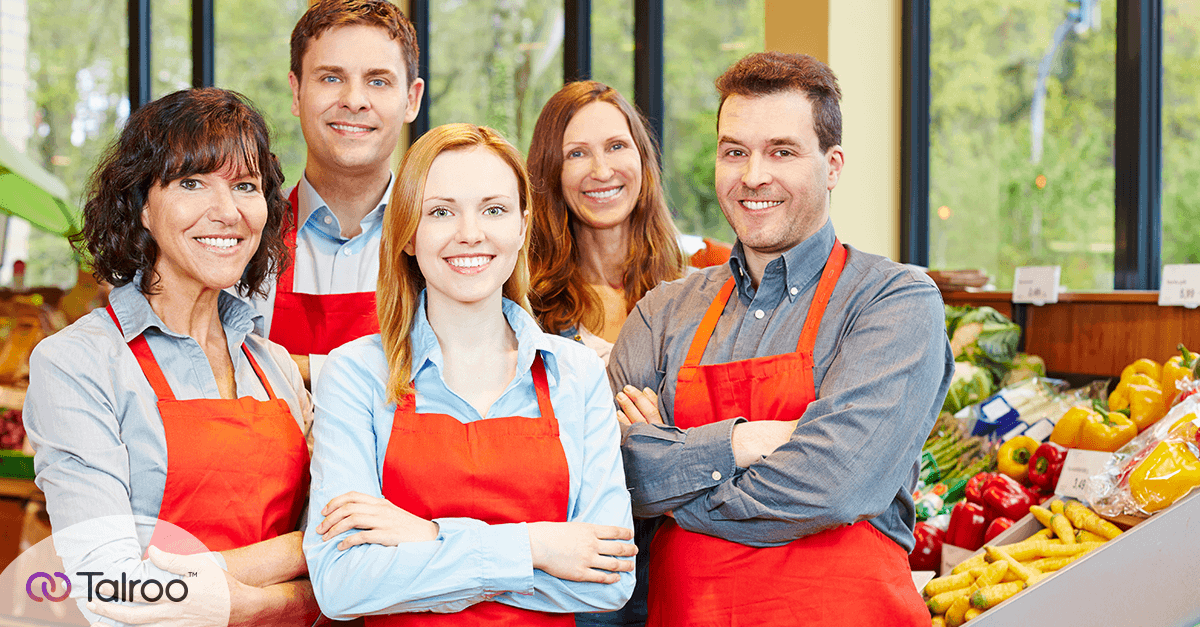 How to Keep Your Best Talent After the Retail Holiday Season
When working as a hiring manager in retail, you are allotted so many payroll hours for the number of sales you drive, which is why many stores and locations scale hiring for seasonal staff during the busy holiday shopping season. You likely have some top performers you want to convert to part-time or full-time employees.
If you've followed our series about seasonal retail and high-volume hiring, in Holiday Hiring 101: Plan Ahead to Beat Your Competition and Snag the Holiday Workers You Need with Texting, your seasonal hiring game is likely on point. But what happens after the holiday season is over? How can you keep your best seasonal staff when retail payroll hours are so low? How can you keep your top performers interested if you're not able to bring them on full-time, but you want to bring them back for the next holiday season?
In this post, we'll explore the ways to make this happen and how to have those tough conversations with seasonal staff you want to keep engaged, but not employed, until the next busy season.
The Retail Recruiting Golden Rule: Transparency Rules
If you have seasonal workers, the first thing to know is that they're going to appreciate your honesty, and if you're transparent about your intentions, they'll be more inclined to remain interested and engaged – especially if they had a good employee experience this season. No one wants to feel like you're stringing them along, so the first rule is:
Don't make promises you can't keep
If you don't have a budget or the hours to retain your top seasonal hires, don't be vague about it. Unless you're 100 percent, don't tell them you'll bring them back for spring break or summer if you already know you won't be able to scale until next year's holiday season.
For recruiters, this means setting expectations with candidates from the beginning whether it's the phone screen or first interview. Being transparent about the role of seasonable hiring throughout the employment journey helps level set expectations from the start. It also provides those that are interested a clear path and goal to becoming a permanent employee after the holiday season ends.
Have direct conversations with employees you might retain
If you do have a budget, even a small one, store leadership should talk to their top performers about their available hours and your scheduling algorithms, i.e. opening up their schedule to work means they're likely to be scheduled for more hours. Be up front about the fact that their hours may dip early in the year, but could pick up in late Q1 if you have forecasting projections to back it up.
Have direct conversations with employees you can't retain
If you know you won't have a budget until the next time you scale your seasonal hiring efforts, consider inviting your top performers to join an alumni employee network on Facebook or LinkedIn so you can keep them engaged and excited about working for your company for the next holiday season. Let them know they are rehireable, and that you'd love to have them back. Let them know that you appreciate all their hard work and that they are welcome back when the season starts again. Bonus: If you need to make a sudden hire because a key member of your team is leaving, you have a talent pool to draw from quickly.
Conduct exit interviews with your outgoing seasonal staff
You'd be surprised how many companies don't take advantage of this opportunity. With layoffs at the end of the season, you already know why a seasonal employee is leaving the company. When you take the time to do exit interviews, you can learn what they liked and disliked about the job and the work environment. This information can come in handy next season to make your workplace more happy and productive. Be sure to thank these employees for agreeing to participate and let them know their opinion matters. Remember, these former employees will be sharing their impression of your talent brand with others long after the season is over.
Related: The Complete Seasonal Hiring Playbook
Offer a recommendation before they ask
If you've had an outstanding seasonal employee, write a recommendation letter for them the week before they leave. People who take on seasonal jobs may have a harder time finding long-term work because they have a track record of switching jobs very frequently. Your recommendation could make a big difference. It's also a great way to send them off to their next job and it will give them a positive outlook during their final days at your store. You can also provide a LinkedIn profile recommendation. In your recommendation, consider what you would want to know if you were the employee's next boss and focus on highlighting those aspects of the worker's personality and performance.
Remember, the crunch for retailers hiring for seasonal positions isn't going to get better next year. Building relationships through ongoing communication with your top performers gives you an opportunity to work with them again in following seasons, and with less training required, onboarding is faster. Not only do you know that you would be getting a trustworthy and capable worker, you don't have to worry about training them and showing them the ropes, since they've already climbed them. Having recurring seasonal workers who are familiar with your company is the best possible option when it comes to scaling your hiring during the holidays.
Search
Recent Posts
Categories
Tags