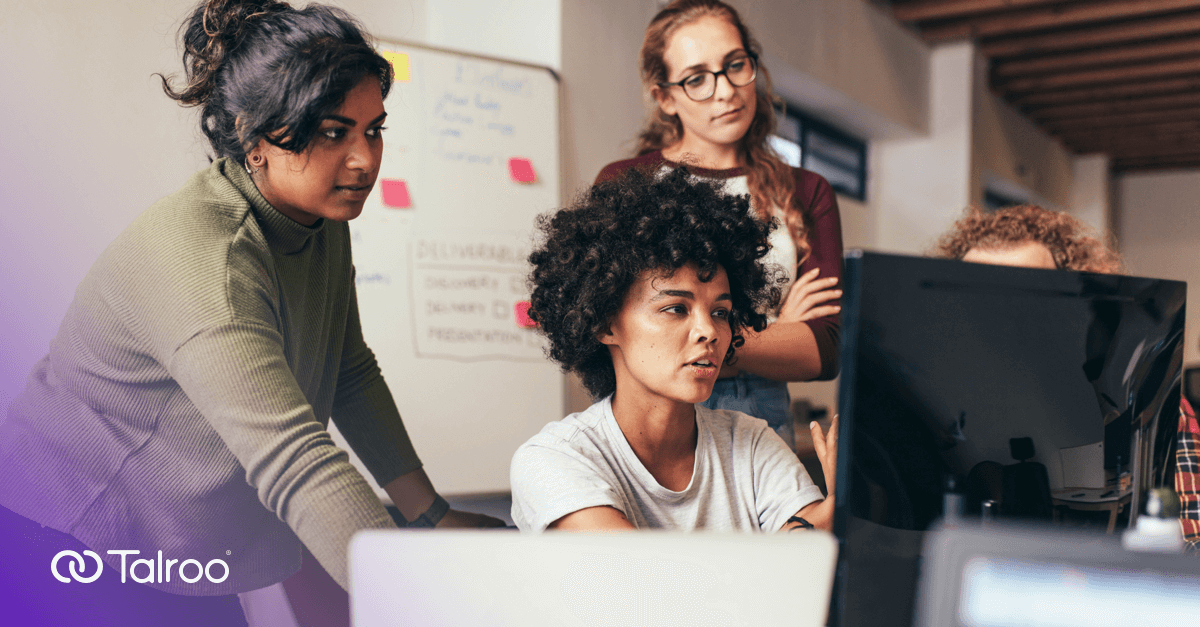 Advance Your D&I Strategy with HR Technology
This year, the country faced a reckoning over systemic bias, unequal access to advancement opportunities, and if and how we can move forward and create a more equitable society for all.
Talent acquisition leaders are in the unique position to enact meaningful change. By intentionally recruiting from a diverse variety of sources, and tackling unconscious bias in the hiring process, they can help create a more level playing field for talented applicants from all backgrounds.
Data is Essential – and Unbiased
Luckily, there are some great tech tools out there that reduce bias and increase opportunity at every state of the recruiting and hiring process that you can incorporate into your Diversity and Inclusion strategy. Where humans have emotions and preconceived notions, data does not. Data is blind, making it a great tool to reduce bias and clearly see candidates for their aptitude and potential contributions.
An Inclusive Hiring Process Starts with the Job Posting
Attracting the right candidates starts with how you create your job ad. Language can unconsciously signal things that are not intended, and turn some candidates off. In Talroo's hiring process for instance, we avoid using adjectives that might contain subtle gender bias. For example, "dominant" and "strong" are unconsciously associated with masculinity. Instead, we use "highly developed" or "deep" when outlining required skills or capabilities in the job posting language.
For instance, words like "ninja," "rock star," or "guru" are proven to attract fewer woman than postings with clear, straightforward titles like "developer" or "sales representative." This will keep the focus on the work, and not the "image" of the job that may turn off qualified people.
Luckily, there are some great tools available to audit your words and provide constructive feedback on your posting:
Don't know where to get started with your Diversity & Inclusion strategy? Check out our D&I Recruiting Practitioner Guide here.
Advertise Your Jobs to a Diverse Audience
Now that you've got your job postings designed to attract the best candidates for the job, you need to choose how to advertise to reach those candidates.
Post through various sites via your ATS
Casting a wide net with the tools you have available will give you a more diverse candidate pool.
Use different vendors
Don't stick to just one or two closed ecosystems, but many approaches to find unique candidates in a variety of sources, especially niche job boards.
Keep an eye on where your candidates are coming from
Check if your legacy vendors are actually performing. Are you buying media because you've always bought it? Or because it has a strong brand presence? If so, make sure to check that those sources are hitting your performance goals. If not, try a performance-based solution like Talroo, so you only pay for the results you receive.
Conduct Your Interviews With D&I Best Practices in Mind
Once the applications come in, there are more opportunities to mitigate bias.
Make sure you use your ATS to its full potential
Many ATSs have anti-bias features built in. Greenhouse's Inclusion features continues to address potential bias, this time in the application review, interview, and candidate consideration steps. It reminds you if you are making decisions too fast, and asks why you didn't advance a candidate. This is huge, as it helps operationalize inclusive behavior in these areas.
Implement a values alignment
This part of the interview process assesses soft skills that are necessary for a candidate to be successful that aren't just about learned skills – instead, it looks for integrity, accountability, teamwork, etc.
Use multiple interviewers
This will give you a variety of perspectives and viewpoints about a candidate, and reduce the chances that a hiring manager's personal affinity will cause them to make a less informed decision.
Consider candidates with different educational backgrounds
It's not just employees from top 4-year colleges who find professional success. There are bootcamps, online coursework, and community colleges that can provide the skills a candidate needs to succeed. A great example of this is the rise in coding bootcamps. Talroo has uncovered great engineering talent by hiring bootcamp grads.
There are plenty of great HR technology tools for this stage of the process as well:
Find out more about Talroo's hiring process at our Careers Page.
Candidates Expect a D&I Optimized Experience
As employers increasingly address D&I, candidates are going to expect it. Glassdoor has launched new product features to provide greater transparency for diversity, equity, and inclusion within companies. Employees will be able to give their companies a "Diversity & Inclusion" rating on the employer rating platform. Employers also have the opportunity to highlight company initiatives and goals to build a diverse and equitable workplace. So basically, if you haven't considered optimizing for diversity recruiting and a best-practices D&I experience, it's time to catch up!
Already totally on top of your company's D&I? Tell us how!
What D&I strategy changes has your company made this year in response to the increased attention to the issue?
Do you have budget for new D&I technology?
Are you currently using D&I technology?
Have you used any of the tools mentioned, and if so, how have they helped your efforts?
Does your ATS provide D&I tools?
Are you making any specific outreach to underrepresented communities, and if so, how?
Email us at marketing@talroo.com. We'd love to hear your thoughts!
Search
Recent Posts
Categories
Tags