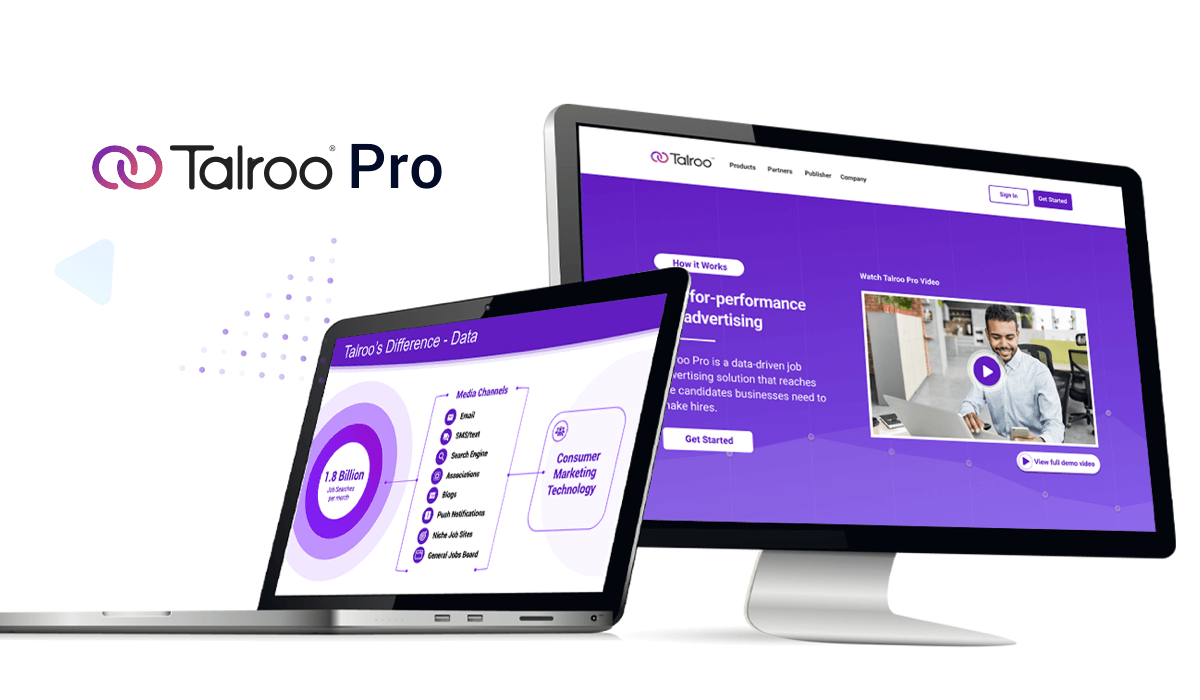 Talroo Pro: Driving More ROI for Your Job Ads
The Talroo brand was created with a mission to connect the right talent with the right recruiters. Our work had started in job aggregation, and this background provided us large data sets for both organizations looking to hire as well as job candidates searching for work. This feedback loop drove efficiency for both sides of our marketplace – the job seeker and the employer. Today, it is more important than ever to be an engine of economic opportunity by providing employers with a great source of engaged and ready-to-work candidates.
What does Talroo Pro do?
Even when there are lots of job seekers on the market, it's still a challenge to fill jobs and grow your business. When you're sourcing candidates, you may find that there isn't enough volume, the applicants aren't qualified… or they just don't respond. "Ghosting" is still a thing, even in an economic downturn!
Leveraging the strength of the direct relationship we have with candidates, Talroo Pro provides 3x the conversion rate of the basic version of Talroo and a stronger candidate pipeline. Let's check out the features!
Branded Candidate Experience
With Talroo Pro, you get the opportunity to brand your individual job ad. This means you have control of your brand, so you can ensure consistency across channels. For your job seekers, they get a seamless candidate experience, and that translates into higher-intent clicks – which leads to applications.
Automated Bidding
Our dynamic bidding algorithm identifies your best audience that is highly engaged, qualified, and within your budget. We do this by leveraging our proprietary first-party data, from 1.8 billion job searches monthly across our audience network.
Every time a job seeker applies, our AI algorithm learns and provides better job recommendations to job seekers with similar profiles and behaviors. With this continuous quality feedback loop, we are able to automate bid optimizations by targeting your specific Cost-per-Application goal, and thus help you programmatically reach the right candidates at the right time across all channels.
The result is better candidates that are more likely to want to work for you.
Recruitment Marketing Intelligence
Have you ever wanted to know how candidates are finding your jobs, who these candidates are, and where you can discover new sources of talent? Talroo Pro includes industry-leading job seeker analytics so you can optimize your recruiting strategy with our unique real-time data.
For talent acquisition leaders who are looking for more talent market data, you can add our award-winning product Talroo Insights™ to your package.
Current Clients Are Getting Big Results with Talroo Pro
As we've been building Talroo Pro, we've been beta testing it with current clients. One of these, in the national defense industry, increased their candidate pipeline by over 3x with Talroo Pro. They were able to justify a higher investment with Talroo based on increased ROI. Another customer, in the transportation industry, saw an 8x increase in pipeline, and a restaurant client saw over 2x. Talroo was able to deliver quality and volume at prices that won further investment.
Making Talroo Work for You
To join the list of clients who have seen increased quality and conversions using Talroo Pro, visit talroo.com/start.
Search
Recent Posts
Categories
Tags