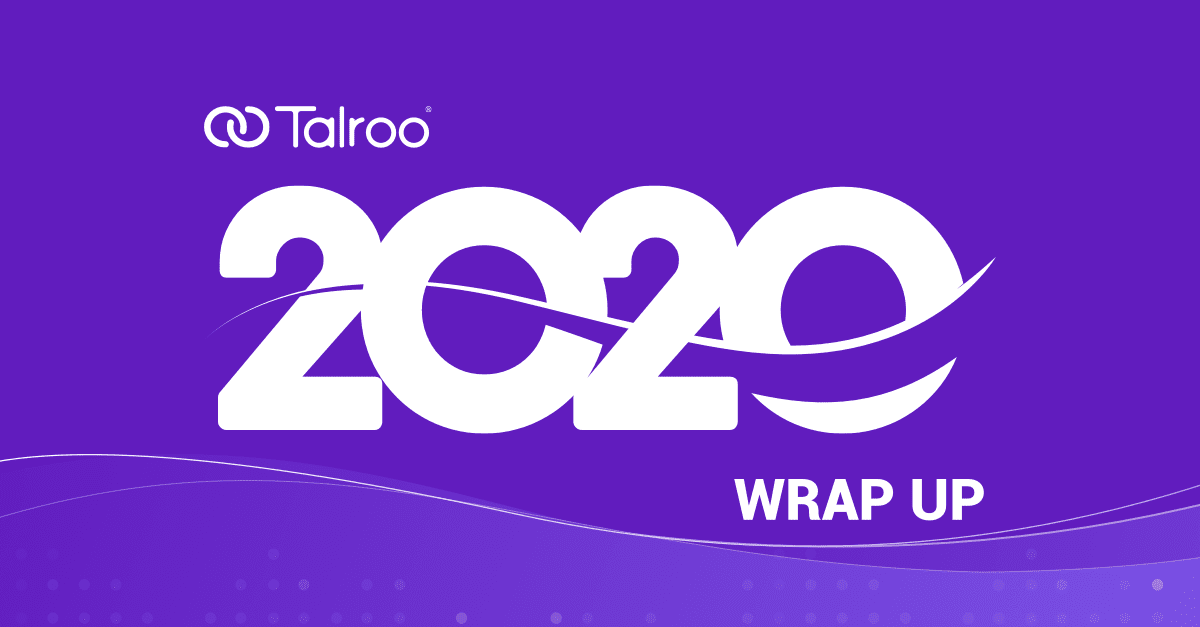 Talroo's 2020 Wrap-Up: Bright Spots in an Unexpected Year
In January of 2020, we published a post titled 2020 Starts with Record Low Unemployment, Stagnant Wages…What's Next? Well, I think we all know the answer to that question. COVID-19 hit in full force in March, and the world changed, seemingly overnight. Public health concerns triggered lockdown orders, business closures, and mass layoffs, causing the economy and the job market to come to an unprecedented halt. Companies and individuals were forced to set aside their best-laid plans for 2020, and improvise.
Nine months later, and things are still in flux. The virus is spiking in the US, but the news of an effective vaccine is encouraging. The labor market recovery has been… uneven. Some industries have been hit so hard that they are unrecognizable from one year ago, like beverage and food service, hotel and travel, and events and entertainment. Other industries have been booming to keep up with the changing demands of housebound consumers, like fulfillment and distribution, trucking and logistics, delivery, and grocery.
Talroo is no exception to these challenges. Like all other companies, we had to make sure our customers were getting their immediate needs met, whether that meant turning physical hiring events into virtual ones, or driving enough candidates to support ramped-up hiring in those booming industries. While no one would have chosen the 2020 we got, as we look back, there is a lot to be proud of – both for Talroo, and for the companies we serve that are putting people back to work.
Work from Home
Millions of office workers had to pivot to working from home nearly overnight, Talroo included. We've always been a very collaborative, social culture. Deep in-office relationships have been formed over the years. Going remote has been a big change for us – but it's been hugely successful thanks to great collaboration tools, fun virtual events, and most importantly, a culture of communication that, as it turns out, runs much deeper than just working in the same building.
Hiring Events go Virtual
Speaking of a pivot… recruiters who relied on holding large in-person hiring events had to change their strategy. Like so much else this year, things had to go virtual. Talroo's Events product, which drives attendees to hiring events, was originally built for in-person hiring events. But with high-volume hiring going remote, we had to rethink things. With a few changes, we were able to drive audiences to virtual or curbside events instead. Read our blog post to learn more: Drive Online Hiring Event Attendance with Talroo Events
Talroo Pro Launches
In September, we released Talroo Pro, our enhanced pay-for-performance job advertising solution. Leveraging the strength of the direct relationship Talroo has with candidates, Pro provides 3x the conversion rate and a stronger candidate pipeline than the previous basic version. Read more about how Pro can help your recruiter budget go further here: Talroo Pro: Driving More ROI for Your Job Ads
Austin-American Statesman Best Place to Work
In November, Talroo made the list of Austin-American Statesman's Best Places to Work for the 4th consecutive year. This award is based on anonymous employee survey that measures organizational aspects such as values, company direction, employee appreciation, team concerns, and more. Receiving the award was especially meaningful this year, when work isn't an actual "place!"
Talroo Insights Labor Market Infographics
When COVID hit, we quickly realized we could see labor market trends in Talroo Insights long before the monthly BLS report came out. In a year when yesterday's news literally felt like yesterday's news, real-time data was of paramount importance. We've produced 10 infographics with up-to-the minute job seeker and employer data since March. See them all here: 2020 Labor Market Review: Talroo Insights™ Infographic Series
Record Job Search Volume
Perhaps the most important takeaway of 2020 is that the job market is alive and kicking. What industries are hiring, which locations have opportunities, and what job seekers are looking for has all reallocated significantly during the pandemic, but there is a strong uptick in both jobs and job seekers. Job seeker volume is up 20% over 2019, and the year isn't over yet. Total job postings in Talroo's network in 2020 are up 2% over 2019, despite the pandemic. And December is on track to be more than 15% higher than December of 2019. There is reason to be optimistic that although the labor force is shifting, there is still a robust market for connecting people with opportunities.
Talroo is ready to help both companies and job seekers in 2021. If you need to make hires, or if you want to learn more about the labor market in your location and industry, let us know.
Here's hoping for a safe and prosperous 2021!
Search
Recent Posts
Categories
Tags