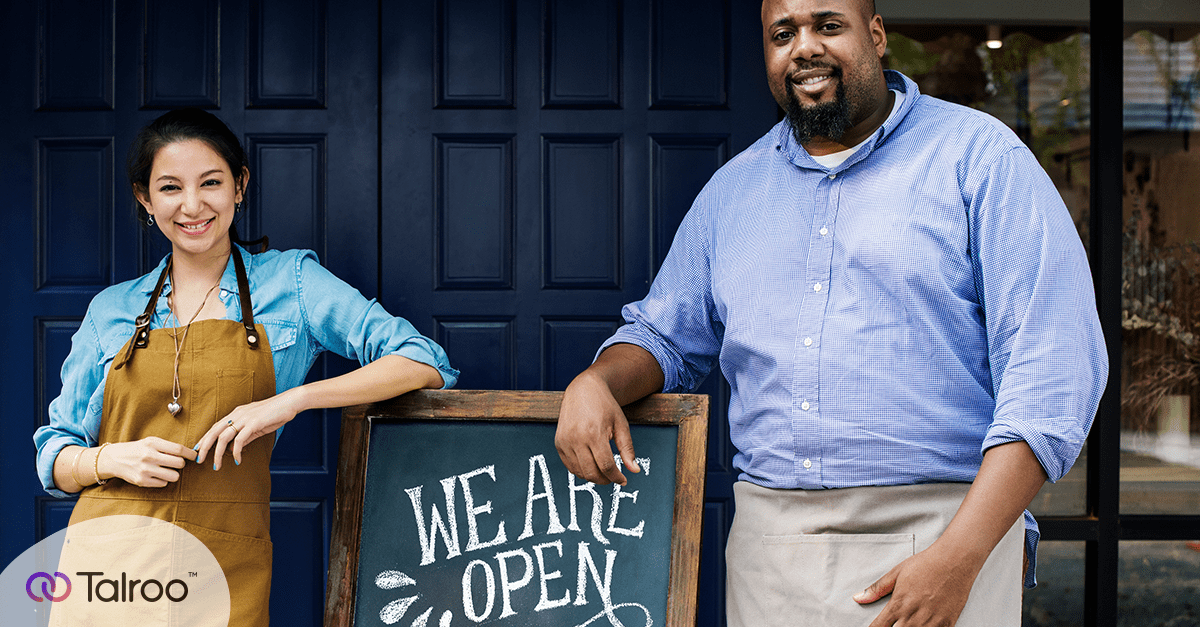 Scale Recruiting for New Restaurant Openings
The National Restaurant Association reported restaurant industry sales of nearly $799 billion last year, which represents four percent of the U.S. gross domestic product, and nearly 48 percent of total food dollars spent in the United States.
Despite industry-wide growth for several years, restaurant operators face significant challenges keeping pace in an environment that is changing at a much faster rate than ever before. A tight labor market and intense competition have continued in 2018 and create a deeper divide between successful and unsuccessful dining franchises. Companies who streamline hiring processes so that they can respond to applicants quickly have an opportunity to thrive, while others may struggle to staff locations.
The restaurant industry is more prone to the impact of higher minimum wages in many states than are other industries that hire fewer, low-skilled workers. But competition for labor is playing a bigger role in driving up wages, based on numerous surveys and comments from industry executives. As things keep getting better in the overall job market, it's restaurant jobs that start to get particularly difficult to fill with quality workers that meet your budget expectations.
At the start of 2018, a minimum wage increase took effect in 18 states and 20 cities across the nation. This has had a cascading effect across the industry, affecting more than just minimum wage workers. Unit growth across the industry coupled with a stronger labor market overall has also contributed to increasing payroll costs and has created labor shortages across the industry—particularly at the management level. Competition for talent will continue to drive up GM salaries in many markets, increasing turnover and affecting operations.
Improving Recruiting for Restaurants
In the restaurant industry, particularly when opening a new location, it's a challenge to find staff to hire and train. Add the challenge of building an environment at your location that speaks to the larger culture of your company and the experience you want to provide your customers, and you have the perfect storm of difficulty in today's talent marketplace.
Finding employees to fill your openings and scheduling needs is important to a successful restaurant opening. Here are seven tips to help you scale your recruiting efforts ahead of a new restaurant or location launch.
Bulk interviews
Consider holding an open house with hiring managers on-site available to immediately interview candidates that pass your initial screening. This can save several steps in the hiring process, and therefore lead to faster time-to-hire. It's also effective for new store openings, as your pre-grand opening company advertising locally will raise awareness of your new location, and create interest for potential candidates.
The interviews can be one-on-one, but group interviews can work really well too. Setting up groups of candidates to have an informal "meet and greet" with a hiring manager or two during an open house, or scheduling one for a later date, is a great opportunity to see how candidates communicate with manager and peers.
Make the application process easy
When's the last time you tested your own company's mobile apply process? If you haven't done it recently, now's the time to take a look and work with department stakeholders to ensure your online application process is easy for candidates, helps to streamline the hiring process, and improves your candidate experience.
Consider where you're reaching candidates
Traditionally, restaurant employees have been young, entry-level workers accustomed to hourly wages and tips. However, according to the National Restaurant Association, people 55 and older are the fastest-growing sector of the industry's workforce. As Baby Boomers begin to exit the mainstream workforce, a traditional work ethic coupled with long term prospects for living well into their 80s and 90s has encouraged many retirees to take up employment in the restaurant industry. In fact, the U.S. Department of Labor predicts that people 65 and older will continue to enlarge this workforce at least until 2024. This means that companies who adapt how they reach a candidate pool of older employees will be more successful in hiring efforts in the coming years.
Make the new store opening a development opportunity
New location openings are a great opportunity to tap your high potential team members or those who are soon to be promoted. It will give them experience in hiring from the ground up and having more interviewers available can help you scale your hiring efforts, whether through an open house or scheduled interviews and orientation training.
Schedule multiple orientation dates and times to suit everyone's schedule
Being flexible with scheduling onboarding and training can help you stand out from your market competitors, as well as accommodate the percentage of part-time team members you hire who may be working another job. Don't let scheduling conflicts be the reason a candidate turns down your offer of employment.
Referrals are golden
Your top performing employees are the best sources for new team members. Take the time and care to develop a concise and rewarding referral program to unlock employee recommendations and turn your team into a recruiting machine. And with today's social media reach, referrals don't have to be restricted to a single geographic area. Your current employees are likely connected far and wide online, so consider all locations when offering incentives for recruiting at a new location.
Get social
Service industry technology provider HotSchedules recommends using your company's social channels to spotlight new locations and positions. The first question a potential team member may ask is, "What's it like working here?" Highlight your culture and your crew on social media. Show the fun, the dedication, the patience and the passion through pictures and updates. If you're just getting started, Instagram is great choice for easy-to-manage, photo-centric content.
Related: How to Use Text Messaging to Recruit in the Restaurant Industry
Hiring for Quality Yet Scaling Your Recruitment Efforts
Finally, in order to assemble a great team for your new location, you must first decide what essential qualities team members should have to deliver the best iteration of your brand experience and positively contribute to your company culture. Restaurant openings are a rare and valuable opportunity, so it's crucial that you and your hiring managers are using an organized process to determine which candidates are the right fit for your opening team. If you take the time to identify your ideal candidate before you begin your hiring efforts, you'll have a persona in mind to help train hiring managers on what to look for, a set of consistent interview questions, and a scoring method to identify the best possible candidates. All of these things can help speed up your hiring process, which is critical in the tight employment marketplace.
Search
Recent Posts
Categories
Tags