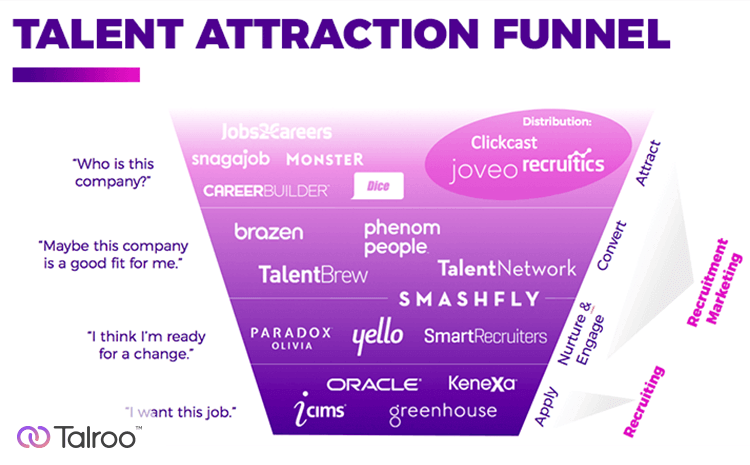 Recruiting Funnels That Work
I half-joked recently that you don't simply "go recruiting." To find and land top talent, the talent acquisition ecosystem needs an integrated approach — bringing together an engaging career site, a customer relationship management system (yes, think of candidates as consumers), and an applicant tracking system (ATS). When you get it all working together, you can start recruiting effectively when you begin using all that technology and data to market to candidates in the same way a brand would market to gain customers or users.
Companies spend billions each year to attract and keep top talent. And the way we're leveraging recruiting technology today is inefficient. Why? Job posting buying decisions have lacked data to support investment. How can you possibly create a candidate funnel without having data to make better strategic and tactical recruiting decisions?
Armed with data, companies can become more predictive in their recruiting decisions and create a better funnel with improved conversion rates. In the digital age, where 70 percent of job seekers are using mobile to connect with opportunities, we have the ability to harness data to attract talent and tap into active and passive candidate pools.
So where does this ability to become predictive come from? At Talroo, our new talent attraction platform is uniquely positioned in the recruiting ecosystem. Our unparalleled trove of performance data — which cuts across jobs, verticals, and geographies — allows us to create a smarter, holistic view of how the job board, CRM, and ATS can work together to create a more efficient talent funnel. Our partners can use our prediction service to understand how well a job may perform within the Talroo ecosystem and allow programmatic buying on a single job. This means partners can provide their customers with the power of Talroo Pro to source talent — and only charge customers for the additional applicants received above other sources.
What good is an engaging career site, CRM, or ATS if you're not marketing to attract talent? That's like building an amazing store and not trying to attract shoppers. If you build it, they won't just come. Companies spend billions on attracting talent, but it's largely inefficient. We help companies market to attract the talent they need, when they need it.
Our dedicated teams work with trusted partners to demystify recruitment marketing to ensure that we provide quantifiable results to employers. We want to help employer advertisers build a better, more efficient, and more effective talent funnel that's data driven. Although we help people discover jobs, the data we collect delivering talent provides a dynamic feedback loop in the same way digital marketing data connects customers and users with brands.
We want to make talent attraction easy by helping recruiting become more data driven. Talroo Pro empowers companies to attract talent when they need it. Our solutions help employers deploy strategies to think like a digital marketer.
Search
Recent Posts
Categories
Tags